West Tour Nusa Penida explores a charming island nestled in the waters between Bali and Lombok on a full-day guided tour. Admire the island's beautiful beaches, rugged coastline, and relaxed way of life, and discover why Nusa Penida has become a firm traveler favorite.
Head out from the Sanur Ferry Terminal toward Nusa Penida. Sit back and relax, and spend your day hopping around five picturesque beaches and some of the most special spots on the island.
Stop first at the top of Kelingking Beach and admire the wonderful view of the white, sandy beach. Take a close look at the curving coastline, which many visitors compare to the shape of a T-Rex. Then, move on to Angel's Billabong. Take a dip in a natural infinity pool created by a small gap in the cliff face without the 5-star price tag.
Next, marvel at Broken Beach's natural pools and cliff arches before making your way to Crystal Bay. Enjoy time to swim and snorkel in waters as clear as their namesake. Finally, make a quick stop at Fast Boat Harbor before traveling back to mainland Bali.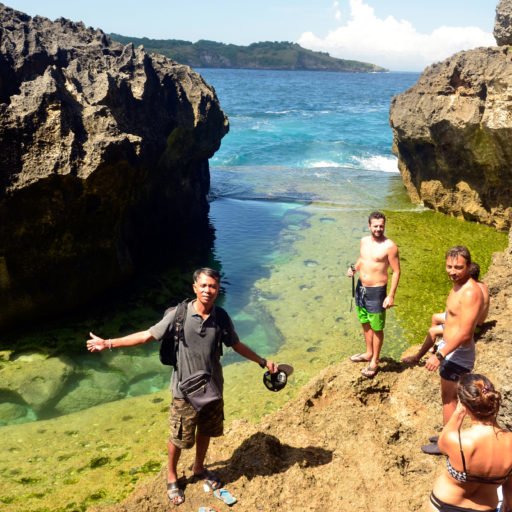 Highlights
Savor the highlights of Nusa Penida island on a small group tour of no more than 5 people from Bali
Visit Kelingking Beach, Angel's Billabong, Broken Beach, Crystal Bay, and Sampan Beach
Swim in a natural infinity pool, and snorkel in crystalline waters
Marvel at the T-Rex-shaped coastline of Kelingking Beach
Price Includes:
Return pick up-drop off hotel
Return fast boat from Sanur to Nusa Penida
AC car with driver and English speaking guide
Mineral water
Have lunch at local restaurant
Tourist object donation
Itinerary.
 7.00 am Pick up time to your hotel stay
8.00 am departure by fast boat from Sanur Harbour
9.00 am Tour visit Angel Billabong and Broken Beach
11.30 pm lunch in local restaurant
12.30 pm visit Kelingking Beach
14.45 pm visit Crystal Bay
15.45 pm back to Harbour
16.30 pm departure to Sanur Harbour
17.30 pm arrive in Sanur and back to hotel stay
18.30 pm arrive your hotel and finish
What to bring?
Short pants or a swimsuit
A change of dry clothes
Sunscreen
Hat
shoes or strapped sandals
Sport Extra money
Exclusions
Tour Condition
 Minimum booking of 2 persons
Above tour prices are applicable for pick up at hotel in : Ubud, Sanur, Benoa port, Seminyak, Legian, Kuta,         Jimbaran, Canggu, and Nusa Dua area
Payment can available in cash or Credit Card, Visa, and cash on the spot. Please pay to our guide or driver     once your trip before going to Nusa Penida
No cancellation fee
Payment can be made by USD or IDR based on the daily exchange rate
Angel's Billabong Beach, West Tour Nusa Penida
When you arrive here, you will be mesmerized by the beauty of the pool. This natural infinity pool is an estuary. You will see crystal clear water and coral reef in any form. You can also swim or just soak in it or probably if you do not want to get wet, you can just soak up the sun on the rocks. Unfortunately, We came not at the right time.
Regardless of the failure of not swimming there, we felt so happy and blessed to be able to see an unbelievably beautiful creation of God right in front of us. At times, we witnessed big waves hit the rocks and it sounded peaceful. It took some time for us to get perfect images of the pool since the waters from the sea often covered it up.
If you have much time to spend, it is better for you to do sunbathing, swim, or just enjoy the view quietly. Angel's Billabong is once said by the locals as one of the best spots on Nusa Penida and I could not agree more.
Our tour guides said that during those times, the waves can reach the mainland approximately 100 meters from the edge of Angel's Billabong and it is very dangerous if you are not aware of it.
Broken Bay (Pasih Uug) Nusa Penida
Broken Bay or Pasih Uug in Balinese. This is Bay one of the coastal cliffs at the height of the Uluwatu mainland of Bali. There you will be able to look directly into the sea and if you are lucky, you can see a lot of manta rays and some turtles in the sea. Pasih Uug (Broken Beach) has a range of high cliffs that surround the sea so it looks like a giant natural pool. Volcano beach or stand still known also under the name Broken Beach also did not escape you can enjoy. This beach is "trapped" in between the cliffs, forming a giant pool is second to none. Above the entrance to the water, lies a natural bridge of rocks that you can cross. Brave?
Kelingking Beach, West Tour Nusa Penida
Arguably the most photogenic spot we visited on our entire Bali trip, Kelingking beach Nusa Penida Islands is one of those viewpoints that it's real when you see it for the first time. This entire coastal area is particularly beautiful – the white cliffs contrast dramatically with the turquoise blue waters. We continued onto Kelingking Beach Nusa Penida. I was shocked to get to the lookout and see what a near mirror image of the world-famous Navagio/Shipwreck Beach of Zakynthos, Greece except without a single tourist in sight…or the shipwreck. Unlike my trip to Navagio earlier this year, I didn't break a toe. I still don't understand how Navagio is world-famous and I'd never heard of Kelingking. I feel privileged to be in on the secret of Nusa Penida.
Penida Beach or Crystal Bay
Crystal Bay is a beautiful bay on the west side of the island of Nusa Penida – the name "Crystal Bay" because her is crystal clear water and has good underwater visibility. The bay has a white sandy beach with palm trees. This Bay is a very famous diving site in Bali that you can visit in the season from July to mid-November. The water is crystal clear thus excellent for snorkeling. Snorkellers can enjoy the underwater scenery, the fish life is very rich, and occasionally Sun Fish and Nurse Sharks hide under the corals. The beach is fairly quiet and therefore ideal to relax and have a picnic.
| | |
| --- | --- |
| PICK UP AREA | Nusa Dua, Jimbaran, Uluwatu, Kuta, Legian, Seminyak, Sanur, Ubud, Canggu, and Kerobokan |
| PICK UP TIME | 7.00 from Lobby, back to hotel 17.00 pm |