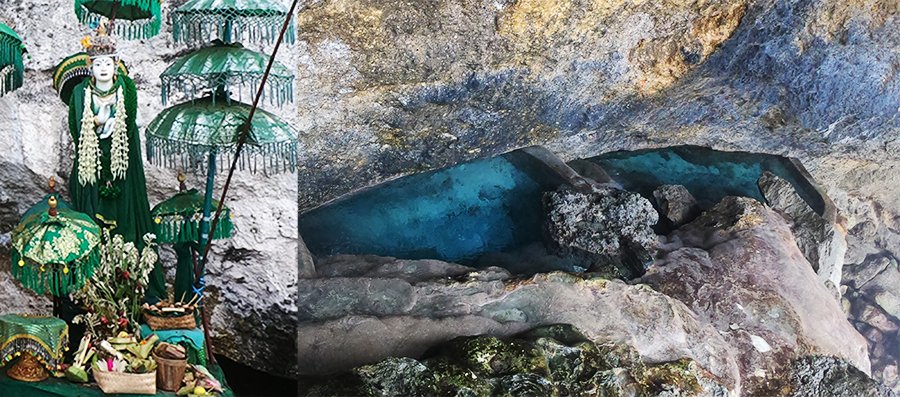 The Holy Spring and Healing Spirit of Guyangan Waterfall Tour is a sacred and rejuvenating journey that takes you through various significant locations on Nusa Penida, an island near Bali, Indonesia. Here's a detailed description of the tour:
Exploration of Famous Places: The tour offers a full-day experience where you'll explore several renowned locations on Nusa Penida. The adventure starts with descending hundreds of iron stairs attached to steep cliffs, which is an adventure in itself.
Ratu Kidul Guyangan Temple: The highlight of the tour is the Ratu Kidul Guyangan temple, which is perched under a towering cliff on the edge of the sea. This temple is considered sacred and is known for its connection to the healing spirit of the holy spring.
Melukat Process: The tour includes a traditional Balinese purification ritual known as "melukat." Participants begin by making offerings in front of the temple. The first stage of melukat takes place at the fountain, featuring three red, white, and black dragons, symbolizing different aspects of spirituality and life.
Tirta Pengurip Pool: The journey continues to the "Tirta Pengurip" pool, which serves to encourage both physical and spiritual health. This pool is believed to cleanse the negative aura within one's body, promoting a sense of overall well-being.
Natural Pools: After the purification process, you'll visit three natural pools filled with holy spring water. These pools are nestled at the base of a high cliff and hold significant spiritual importance.
Healing and Rejuvenation: The tour promises a rejuvenating experience for participants. After undergoing the healing rituals, you'll likely feel refreshed both physically and mentally, with a lightness in your body and a clear mind.
Manta Point: Following the spiritual experience, you'll ascend the cliff to Manta Cliff Keli. Here, you'll have the opportunity to enjoy a panoramic view of Manta Point, a renowned location for observing manta rays. If you're lucky, you may spot these graceful creatures swimming on the water's surface.
Lunch: A meal is served at a local restaurant in Guyangan, either before or after your visit to Manta Point, allowing you to refuel and savor Indonesian cuisine.
Kelingking Beach: To conclude the tour, you'll visit Kelingking Beach, which is celebrated for its breathtaking beauty and is famous worldwide. This spot offers an incredible panorama of the Indian Ocean, allowing you to take in the stunning natural beauty of the area.
Return to Bali: After the tour, you'll be taken back to Nusa Penida harbor for your return journey to Bali Island.
The Holy Spring and Healing Spirit of Guyangan Waterfall Tour is a unique opportunity to explore the spiritual and natural wonders of Nusa Penida, engage in traditional Balinese rituals, and witness the mesmerizing beauty of the island's landscapes. It promises not only a physical adventure but also mental and spiritual rejuvenation.
What Includes?
Return pick-up and drop-off hotel
Return fast boat from Sanur, Bali
Trekking guide
Healing offering
Sarong at temple
Have lunch at a local restaurant
AC car with driver
English-speaking driver
Mineral water
What Exclude?
Personal expenses
Alcohol drink
Itinerary 
7 am pick-up time in the lobby
7.40 am meeting service in Sanur
8.00 am departure to Nusa Penida by fast boat
9.00 am arrival to Nusa Penida Harbour
9.15 a.m.–12 p.m., heling
12.15 pm–13.30 pm: lunch at a local restaurant
13.00 pm–14.00 pm: visit Manta Cliff Point
14.00 pm–15.00 pm: visit Kelingking Beach
16.00 pm–16.45 go-to fast boat
16.45 pm–15.00 waiting boat for back to Sanur
17.00 pm departure to Sanur by fast boat
17.45 arrive at Sanur
18.00 drop-off  to a hotel
19.00, arrive at the hotel, and finish.
What should I bring?
A change of dry clothes
Sunscreen
Hat
Sport shoes or strapped sandals
Extra money
Not suitable for:
Pregnant women
People have a medical background
Know before you go: