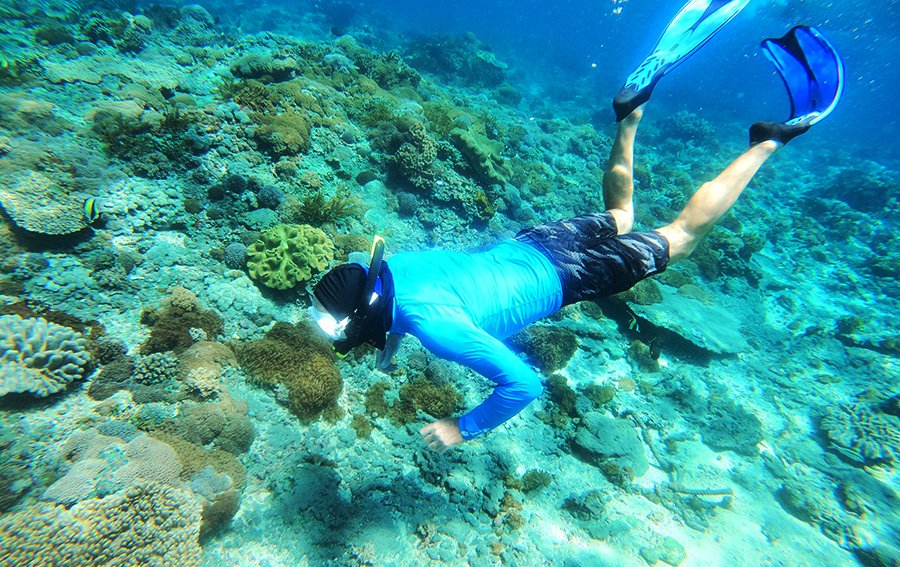 On a day exploring the Indian Ocean, visit a hidden bay in the southern part of Nusa Penida to enjoy snorkeling with giant manta rays for an unforgettable experience. Apart from snorkeling at Manta Point, we will be invited to snorkel in three other best places on Nusa Penida. Let's enjoy snorkeling with a private boat!
Highlight 
Explore the colorful underwater world at Manta Point, Crystal Bay, Gamat Bay, Wall Bay.
Enjoy a boat ride to the island and the opportunity to snorkel, swim and relax on an open boat overlooking the small island
Enjoy snorkeling experience with private boat
Admire the majestic manta rays
Snorkel to get a special experience in the sea of Nusa Penida
Full Description
Starting from pick-up at your hotel at 7 a.m.,  transfer to Sanur port After getting a boat ticket, take the boat and leave for Nusa Penida for a 45-minute journey. Your snorkeling guide and your private boat captain are ready to wait for your arrival in Nusa Penida.
From the Nusa Penida pier, you are ready to start exploring the Nusa Penida Sea towards Manta Point with a private crew boat complete with the necessary snorkeling equipment. During the private boat trip to Manta Point, admire the unique views of the cliffs, bays, headlands, and small islands that are a feature of this program. Enjoy views of the two unique island shapes, and enjoy swimming with giant manta rays or turtles if you're lucky.
Looking for your next snorkeling experience? You will be guided to Crystal Bay, Ganmat Bay, and finally Wall Bay. These three places will satisfy you by allowing you to enjoy a variety of coral reefs inhabited by thousands of colorful fish. Ask your snorkeling guide to help you take photos of each beautiful place during this snorkeling trip.
Enjoy a delicious lunch at a beachside restaurant, then relax sunbathing on the white sand after enjoying lunch.Return to the boat with guests and cross to the island of Bali. Upon arrival at Sanur port, your driver is ready to wait and take you to the hotel. Thank You!
What Includes?
Return pick-up-drop-off hotel
Return fast boat from Sanur to Nusa Penida
English-speaking guide on the boat snorkeling
The open boat and snorkeling equipment
4 locations for snorkeling
Mineral water
Have lunch at a local restaurant
Entrance fee
What's Excludes
Personal Expenses
Alcohol drink
Itinerary.
7.00 am Pick-up time to your hotel stay
8.00 a.m. departure by fast boat from Sanur Harbour
9.00 a.m. arrival to Nusa Penida Harbor
10.00 a.m. snorkeling  at Manta Point and 3 spots at another location
12.30 p.m. lunch in a local restaurant
14.30 p.m. back to the fast boat station
15.15 p.m. arrive in Sanur Harbor
16.15 p.m. arrive at your hotel
What should I bring?
Short pants or a swimsuit
A change of dry clothes
Sunscreen
Hat
Sport shoes or strapped sandals
Extra money
Know before you go
The itinerary may be adjusted at the last minute to keep you safe from the strong swell at Manta Point
Snorkeling with manta rays is not always guaranteed on every tour, as it depends on weather and water conditions on the day
West Part Nusa Penida Tour Land
West Part Tour and 4 Spot Snorkeling