3 Days 2 Night Komodo Dive
Liveaboard Komodo
Besides the unique Komodo dragons and the rugged landscape, the national park is also known as one of the best dive locations in the world. It is a UNESCO world heritage, situated between Sumbawa and Flores, and consists of 3 larger islands: Komodo, Rinca and Padar, as well as numerous smaller ones.
From pristine corals, mantas, sharks, turtles, dolphins, dugongs and giant pelagic animals to tiny pygmy seahorses, nudibranchs, shrimps and frogfishes, you'll find the diversity of marine life inspiring. Komodo's beaches, blue lagoons teeming with fish, and some of the most spectacular underwater landscapes attract divers from all over the world. The underwater topography is as diverse as marine life. Dive sites vary from gentle slopes to walls, channels, flat bottoms, pinnacles, overhangs and caves covered by hundreds of different species of hard and soft corals.
This location is known for its strong current, if you're an advanced and adventurous diver, you can test your mettle here. But if you prefer calm and relaxed dives, we choose beautiful and sheltered reefs. Komodo National Park has it all!
Diving from a liveaboard is an amazing experience with many advantages. The main one is that you will stay in Komodo National Park, which makes it possible to offer you early morning and night dives, an evening under the stars with no light pollution, stunning sunsets and rises surrounded by the best that nature offers. Our boat 'Weta Molas' is ideally suited for multi-day dive trips with small groups up to a maximum of 8 guests.
On our North-Central cruises, we offer 3 or 4 days trips and visit all the diving highlights of Komodo National Park. Additionally, we go trekking on Rinca Island to see the Komodo Dragons, watch the 'flying foxes (bats) at Kalong and climb one of the hills of Gili Lawa Darat (North Komodo) to enjoy a stunning sunset.
On our South cruise, we visit beautiful dive sites in the south of Rinca and Komodo, which can't be reached in a day trip. And one of the highlights is the hill hike on Padar Island for a beautiful sunset experience. (see program C).
The exact program of all liveaboards will always depend on tides, weather and season, as well as the diver's level of experience. We also try to accommodate the preferences of each of you as much as possible and will do the utmost to offer you an unforgettable liveaboard trip in Komodo.
In addition to the best dive sites of the park, we combine this liveaboard with trekking on Rinca Island to visit the famous Komodo dragons (if Rinca is still closed we don't do dragon walk), anchor at Kalong, a mangrove island, where at dusk thousands of giant bats (flying foxes) take off and a beautiful sunset hill hike in the north part of Komodo National Park.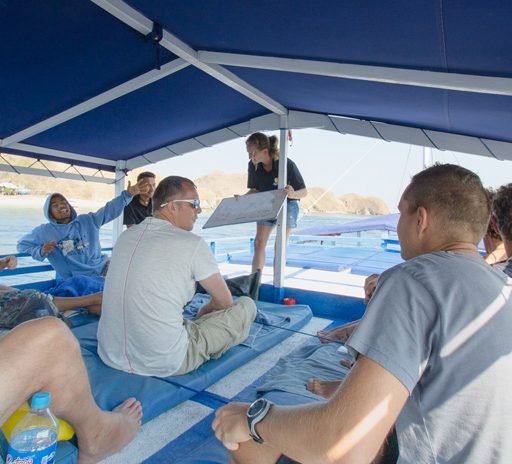 Day 1:
Departure from Labuan Bajo between 9 am and 10 am
1 dive at Sebayur Kecil
1 dive at Pengah
Watching the flying foxes at Kalong
Night dive at Wainilu
Overnight near Rinca Island
Day 2:
Dragon walk on Rinca Island if open again. (but at the moment closed!!!)
2 day dives in Central Komodo (eg: Batu Bolong and Manta Point)
Sunset hike on Gili Lawa Darat (North Komodo)
Night dive in North Komodo
Overnight near Gili Lawa Laut (North-East Komodo)
Day 3:
3 dives in North Komodo (choice of Castle Rock, Crystal Rock, Cauldron, Golden Passage, Lighthouse)
Cruise back and arrive in Labuan Bajo between 3 pm and 5 pm
Total of 9 dives.
| | |
| --- | --- |
| Departure Place | : Bali (Hotel) |
| Departure Time | : 06.00 A.M |
| Duration | : 4 days (approximately) |
Price is Per Person (Minimum 2 Persons)
| Total Pax | Price Per Person |
| --- | --- |
| 1-2 | $1.150/pax |
| 3-4 | $1.100/pax |
| 5-6 | $1.050/pax |
| 7 + | $ … |
What's Included on the liveaboard:
✔️ Standard dive equipment (BCD, regulator, wetsuit, fins, booties, mask, snorkel (for courses), surface marker buoy, weight system, tank)
✔️ Night dive torch
✔️ All meals
✔️ Snacks & fruits
✔️ Tea, coffee, drinking water & lemonade
✔️ Towels
✔️ VAT
Excluded on the liveaboard:
◘ Additional dive equipment (computer, 15L tank)
◘ Komodo National Park fees
◘ Canned soft drinks & beer
◘ Tip
DO NOT FORGET TO BRING:
-Small size luggage (backpack / overnight bag)
-Passport

-Beach Towel

-Extra money 
-Sun cream
-Hat
-Trekking shoes
-Sun glasses 
-Personal needs  
-Mosquito Repellent