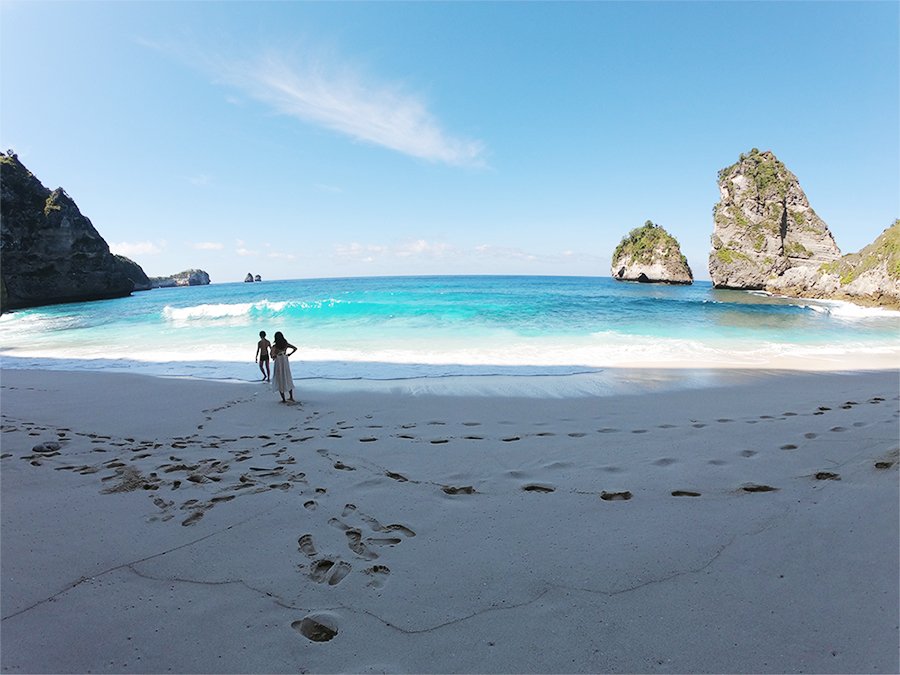 The East Nusa Penida Tour is a popular excursion on the island of Nusa Penida, Indonesia, known for its stunning natural beauty and cultural sites. This tour typically includes visits to Diamond Beach, Atuh Beach, Three Houses, and Giri Putri Temple. Here's a description of each of these destinations:
Diamond Beach: Diamond Beach is a hidden gem on Nusa Penida, known for its pristine white sand, crystal-clear turquoise waters, and dramatic cliffs. The beach is named after the diamond-shaped rock that sits just off its shore. To reach the beach, visitors descend a steep and somewhat challenging set of stairs carved into the cliffside. Once you arrive at the beach, you can relax on the soft sand, swim in the refreshing waters, and take in the breathtaking views of the ocean.
Atuh Beach: Atuh Beach is another picturesque spot on Nusa Penida, featuring a long stretch of golden sand and vibrant blue waters. The beach is surrounded by towering cliffs and lush greenery, creating a tranquil and serene atmosphere. Visitors can take leisurely walks along the shore, swim in the sea, and enjoy the stunning views of the surrounding landscapes.
Three Houses: The Three Houses are a unique rock formation located near Atuh Beach. These three stone structures appear to be perched precariously on the edge of a cliff, and they offer a great photo opportunity. You can capture some incredible shots with the ocean in the background and the three houses in the foreground.
Giri Putri Temple: Giri Putri Temple, also known as Karangsari Cave Temple, is a sacred Hindu temple located in a cave. It is a spiritual and cultural highlight of the East Nusa Penida tour. Visitors typically enter a small cave entrance and walk through narrow passages to reach the main temple chamber. The temple is known for its unique and serene ambiance, with intricate stone carvings and statues dedicated to Hindu deities.
The East Nusa Penida tour is a great way to experience the natural beauty and cultural heritage of this stunning island. It's important to note that Nusa Penida's terrain can be rugged, and some areas may require physical effort to access, so it's a good idea to be prepared with appropriate footwear and be cautious when exploring the cliffs and beaches. Additionally, it's recommended to check the latest conditions and safety guidelines with local tour operators when planning your visit.
Itinerary.
7.00 am Pick-up time to your hotel stay
8.00 am departure by fast boat from Sanur Harbor
9.45 am Tour visits to Giri Putri Temple
10.45 pm visit Three House
12.30 pm: Lunch
13.45 pm: visit Atuh and Diamond Beach
16.00 pm back to Harbor
16.45 pm arrive in Sanur Harbor
17.00 pm: back to hotel
18.00 pm, arrive at your hotel and finish
Price Include:
Return pick-up-drop-off hotel
Return fast boat from Sanur to Nusa Penida
AC car with driver and English-speaking guide
Mineral water
Lunch at a local restaurant
All entrance fees
What should I bring?
A change of dry clothes
Sunscreen
Hat
Shoes or strapped sandals
Sport Extra money
Tour Condition
 Minimum booking of 2 persons
The above tour prices are applicable for pick-up at hotels in: Ubud, Sanur, Benoa Port, Seminyak, Legian, Kuta,  Jimbaran, Canggu, and Nusa Dua.
Payment can be made in cash or by credit card, Visa, or cash on the spot. Please pay to our guide or driver     once your trip is over before going to Nusa Penida
There is no cancellation fee
Payment can be made by USD or IDR based on the daily exchange rate