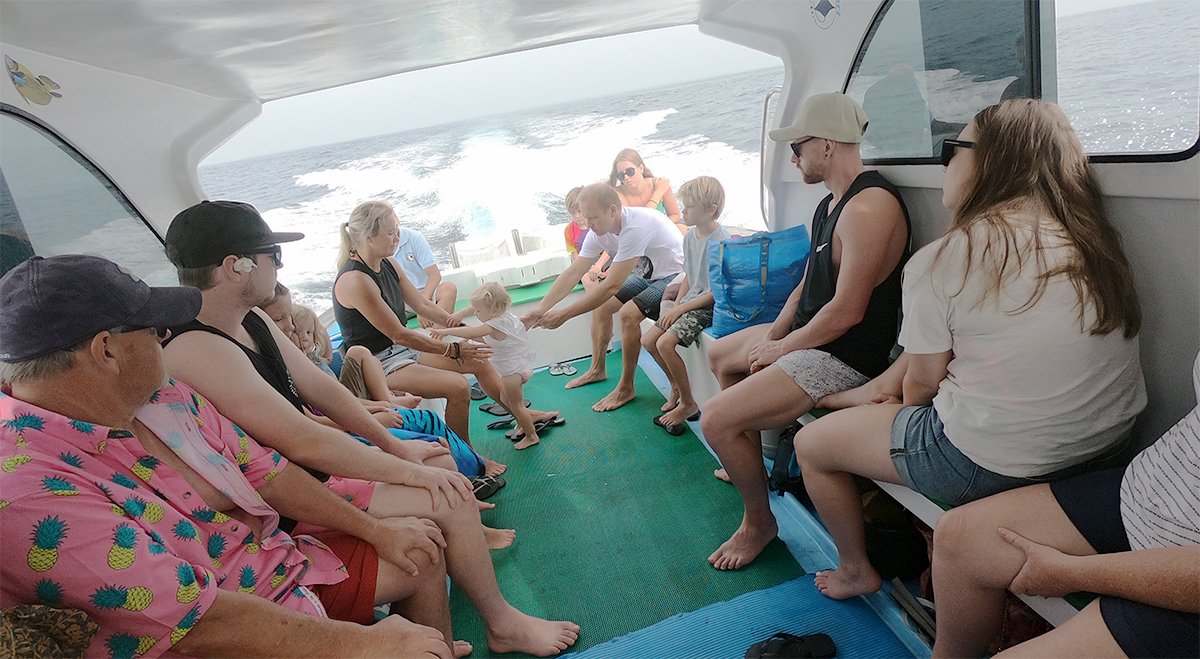 Embarking on a Bali charter boat for a snorkeling adventure to Manta Point, Nusa Penida, promises an unforgettable experience exploring the vibrant underwater world of Indonesia. Here's a full description of the journey, covering four fantastic snorkeling spots: Manta Point, Crystal Bay, Gamat Bay, and Mangrove Point Lembongan.
1. Manta Point: Kick off your snorkeling expedition at Manta Point, renowned for its large population of majestic manta rays. Glide through the crystal-clear waters as these graceful creatures swim gracefully beneath you. The site is aptly named for the high probability of encountering these magnificent rays year-round. Marvel at their elegant dance and appreciate the opportunity to witness them in their natural habitat.
2. Crystal Bay: Next on the itinerary is Crystal Bay, a picturesque cove renowned for its clear waters and abundant marine life. Snorkelers can explore vibrant coral reefs teeming with a kaleidoscope of tropical fish. The bay is named for its crystal-clear waters, providing excellent visibility for snorkelers to admire the intricate coral formations and the diverse array of marine species.
3. Gamat Bay: Gamat Bay is a hidden gem for snorkeling enthusiasts. Here, you'll discover a rich underwater world featuring a variety of corals and marine life. The bay is home to colorful coral gardens and schools of tropical fish, offering a captivating spectacle for snorkelers. Keep an eye out for unique marine creatures that inhabit this less-explored but equally enchanting snorkeling spot.
4. Mangrove Point Lembongan: Complete your snorkeling adventure at Mangrove Point in Lembongan. This location provides a different underwater landscape with its mangrove forests and diverse marine ecosystems. Glide through the shallow waters and observe the fascinating interplay between the mangroves and the marine life that calls this area home.
General Information:
Duration: The charter boat and snorkeling excursion typically last a full day.
Inclusions: Snorkeling equipment, a knowledgeable guide, and sometimes lunch depending on the tour package.
Tips: Bring sunscreen, a hat, and a waterproof camera to capture the beauty of the underwater world. It's also advisable to wear a rash guard for sun protection.
Immerse yourself in the natural beauty of Bali's underwater wonders, and let this snorkeling journey be a highlight of your visit to the Indonesian paradise.
Including
Take and pick up the hotel to the port
Return fast boat ticket to Nusa Penida
3 snorkel spots (Manta Point, Crystal Bay and Gamat Bay)
Open the snorkel boat and captain
Snorkeling guide
All snorkel gear (snorkel, fins, and life jacket)
Have lunch at a local restaurant.
Mineral water in the snorkeling boat
Free underwater snorkeling photos by GoPro
Private cars for tourist spots
Tour Land: Visiting Kelingking Beach, Angel's Billabong, and Broken Beach
Itinerary.
7.00 am  pick up time to your hotel
8.15 am depart to Nusa Penida by private boat
9.30 am arrive in Manta Point and swim with Giant Manta Rays
10.45 pm snorkeling in Crystal Bay
11.15 pm snorkeling in Gamat Bay
12.30 pm lunch at local restaurant
14.30 pm visit Kelingking Beach
15.30 pm visit Angel Billabong and Broken Beach
16.30 pm back to boat and depart to Sanur
17.30 pm arrive in Sanur
18.30 pm arrive in your hotel
WHAT BRING?
Short pants or a swimsuit
A change of dry clothes
Sunscreen
Hat
shoes or strapped sandals
Sport Extra money
EXCLUSIONS
Personal Expenses of Yours