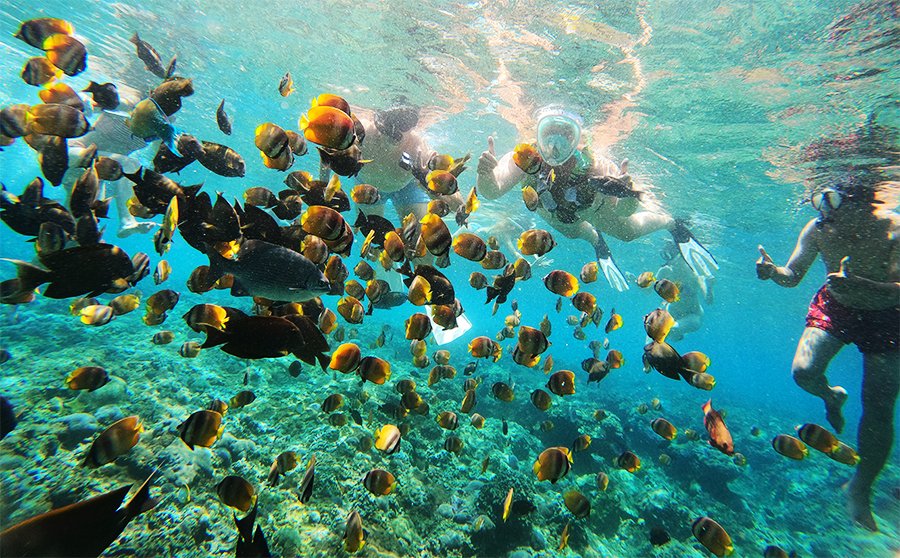 The Diamond Beach Tour and 4 Spot Snorkeling around the Nusa Penida Islands sound like an exciting and comprehensive way to explore the natural beauty of Nusa Penida, an island near Bali. Here are some details about the tour and the spots it covers:
Manta Bay: Manta Bay is a popular snorkeling spot in Nusa Penida known for its crystal-clear waters and, of course, the opportunity to swim with manta rays. It's an incredible experience to observe these majestic creatures in their natural habitat.
Crystal Bay: Crystal Bay is renowned for its stunning, clear waters and is a fantastic spot for snorkeling and diving. The underwater ecosystem here is teeming with marine life, making it a great place for underwater enthusiasts.
Gamat Bay: Gamat Bay is another beautiful bay where you can snorkel and witness the rich marine biodiversity of Nusa Penida. You can expect to see colorful coral reefs and a variety of fish species.
Wall Bay: Wall Bay, as the name suggests, might have steep underwater walls or drop-offs that offer a unique snorkeling and diving experience. The underwater topography can be quite dramatic, and it's an excellent place for more experienced snorkelers and divers.
Nusa Penida, with its lush rainforest-covered hills and clear waters, is a fantastic destination for nature lovers. It offers a blend of adventurous activities like snorkeling and exploring underwater life with the chance to relax on its beautiful beaches.
The convenience of pre-arranged boat tickets, attraction entry tickets, and a driver means you can focus on enjoying the experience without the hassle of planning logistics. This type of tour is ideal for tourists looking for a full-day adventure while still having some leisure time. Don't forget to bring your snorkeling gear, swimwear, and a camera to capture the stunning marine life and the island's scenic beauty.
Highlight
Save time by taking the fast boat from Bali's Sanur Port to the island.
East Part Tour and 4 spots for snorkeling trips on Nusa Penida, including Manta Bay
Visiting Atuh and Diamond Beaches
Explore the stunning cliffs overlooking the sea before taking a dip in the pristine water.
Climb up the famous treehouse for views of the surrounding forest and coastline.
Enjoy personalized service on this private tour for just you and your group.
Price includes: 
Return pick-up – drop-off hotel
Return fast boat to Nusa Penida
The open boat and snorkeling gear
4 spots of snorkeling
Mineral water
Lunch at a local restaurant
Car with driver for tour island
Donation ticket
Snorkeling guide on the open boat
Itinerary
7.00 am Pick-up time to your hotel stay
8.00 am departure by fast boat from Sanur Harbour
9.00 am: snorkeling at 4 location
12.15 pm lunch in a local restaurant
13.45 pm: visit Diamon Beach
14.45 pm: visit Rumah Pohon
15.45 pm back to Harbour
16.30 pm departure to Sanur Harbour
17.30 pm: arrive in Sanur and back to a hotel stay
18.30 pm, arrive at your hotel and finish
What to bring?
Short pants or a swimsuit
A change of dry clothes
Sunscreen
Hat
Shoes or strapped sandals
Sport Extra money
Tour Condition
Minimum booking of 2 persons
The above tour prices are applicable for pick up at hotels in Ubud, Sanur, Benoa port, Seminyak, Legian, Kuta,
Jimbaran, Canggu, and Nusa Dua area
Payment can be made in cash or by credit card, Visa, or cash on the spot. Please pay to our guide or driver once
your trip before going to Nusa Penida
There is no cancellation fee
Payment can be made by USD or IDR based on the daily exchange rate