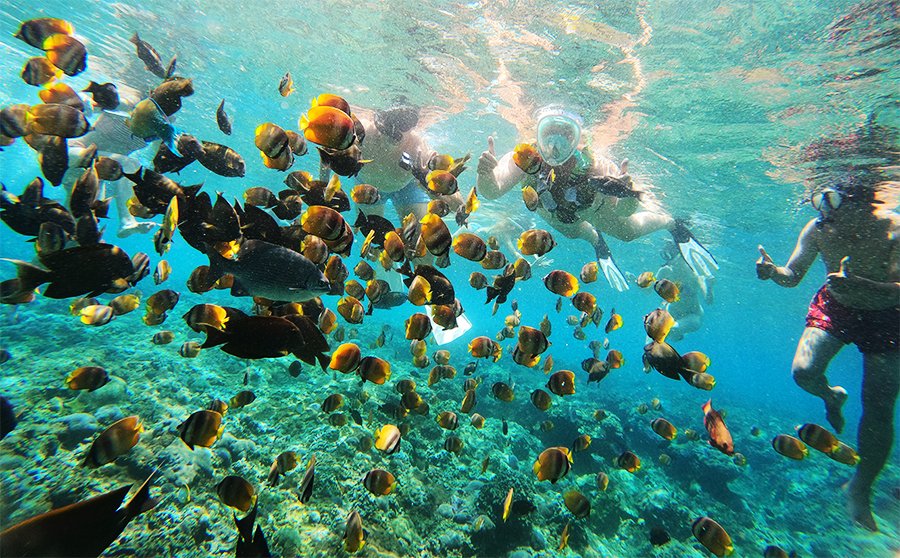 A full day of exploring the land and enjoying the beauty of the sea of Nusa Penida, swimming with manta rays, and 4 of the best snorkeling spots such as Manta Bay, Crystal Bay, Gamat Bai, and finally Wall Bay Continue to explore the beautiful land of Nusa Penida to Kelingking Beach.
Highlights
Snorkel in four different locations: see manta rays and other marine life
Amazing views of the water on an open snorkeling boat
Private island tours mean more time to explore and take photos.
Hassle-free pick-up and drop-off from your hotel in south Bali, Kuta, Seminyak, Canggu, Sanur, and Ubud.
Full description
Our driver will pick you up by private car and take you to Sanur Port.After registration, you will be guided by a public speedboat to Nusa Penida.Sanur Beach Harbor (past) First Stop: Start the day early; get ready to be picked up from the hotel at 7 a.m. Depart to Matahari Terbit Harbor on Sanur Beach, where you will take a fast boat to the island. While waiting, you will check and register for your fast boat entry. Next stop: depart for Nusa Penida Island.
4 Snorkeling Spots in Nusa Penida Visit: Manta Bay, Crystal Bay, Gamat Bay, and Wall Bay. During your snorkeling trip, you'll see lots of colorful fish and coral, and possibly turtles too! At Manta Bay, we hope you're lucky enough to swim with wild manta rays!
It seems like you're mentioning some popular tourist destinations. Kelingking Beach, Angel's Billabong, and Broken Beach are all located on Nusa Penida, an island near Bali, Indonesia. These sites are known for their stunning natural beauty.
Kelingking Beach: Kelingking Beach is famous for its T-Rex-shaped cliff and pristine white sandy beach. The viewpoint offers a breathtaking panoramic view of the coastline, making it a popular spot for tourists and hikers.
Angel's Billabong: Angel's Billabong is a natural tide pool formed by the tide. The clear water and unique rock formations make it a great spot for swimming and taking in the surrounding beauty.
Broken Beach: Broken Beach is a stunning natural bridge formation with a natural pool inside. It's a unique geological feature that offers a picturesque view of the ocean.
These three destinations are often included in tour itineraries for visitors exploring Nusa Penida due to their captivating landscapes and Instagram-worthy beauty.
What Includes?
Return pick-up and drop-off hotel
Return fast boat from Sanur, Bali
A local boat for snorkeling
Snorkeling equipment
Have lunch at a local restaurant
AC car with driver for a tour
English-speaking driver
Mineral water
What Exclude?
Personal expenses
Alcohol drink
Travel insurance
Itinerary 
7 am pick-up time in the lobby
7.40 am meeting service in Sanur
8.00 am departure to Nusa Penida by fast boat
9.00 am arrival to Nusa Penida Harbour
9.15 a.m.–12 p.m., start 4 spot snorkeling
12.15 pm–13.30 pm: lunch at a local restaurant
13.00 pm–14.00 pm: visit Kelingking Beach
14.00 pm–15.00 pm: visit Angel Billabong and Broken Beach
16.00 pm–16.45 go-to fast boat
16.45 pm–15.00 waiting boat for back to Sanur
17.00 pm departure to Sanur by fast boat
17.45 arrive at Sanur
18.00 drop-off  to a hotel
19.00, arrive at the hotel, and finish.
What should I bring?
A change of dry clothes
Sunscreen
Hat
Sport shoes or strapped sandals
Extra money
Not suitable for:
Pregnant women
People have a medical background