RAJA AMPAT AND PAPUA EXPLORERS
Raja Ampat tour to explore the jewel of eastern Indonesia The archipelago is located in West Papua Province, off the northwest tip of Bird's Head Peninsula. Raja Ampat literally means four kings." The name represents the four largest islands in the archipelago: Waigeo, Misol, Batanta, and Salawati.
Dubbed a scuba diver's paradise, the area is strategically located in the center of the coral triangles and is known to have the richest marine biodiversity on the planet. For that reason, most tourists come to Raja Ampat only to experience its underwater beauty. However, Raja Ampat has so much more to discover beyond underwater activities. With its endless natural beauty, remoteness, and community-based tourism, Raja Ampat offers the kind of experience you won't find in other destinations. And of course, island hopping is one of the best activities in Raja Ampat.
WAYAG ISLAND
Most people remember Raja Ampat from the photograph of the beautiful atoll of Wayag. Yes, Wayag is the icon of Raja Ampat. Being the icon of Raja Ampat, the stunning panorama of Wayag Island is featured on Raja Ampat's tourism promotion. Wayag is an uninhabited island situated northwest of Waigeo Island. Getting to this Raja Ampat icon is not easy but definitely worth the effort. If you start from Waisai on Waigeo Island, it takes around a 3–4 hour journey by speedboat. Visiting Wayag is incomplete without climbing the steep and rocky hill to get to the viewpoint, which takes about 30–40 minutes (depending on your fitness level), where you can enjoy the 360-degree view of the stunning panorama of unique karst formations beautifully scattered across the clear blue water.
PIAYNEMO
Piaynemo is one of the most famous spots in the Raja Ampat archipelago, with its spectacular islands scattered across the turquoise water. Piaynemo is often called mini Wayag, as the two atolls have a similar seascape. If you have limited time and budget, visiting Piaynemo is the best alternative, as it's easier and cheaper than Wayag. Piaynemo is located only a 1.30–2 hour speed boat ride from Waisai. Getting to the viewpoint takes only 10 to 15-minute walks and is fairly easy with well-maintained wooden steps.
KABUI BAY
Kabui Bay is located between Waigeo Island and Gam Island. The bay offers an amazing display of karst formation, which is mostly covered with dense tropical vegetation. From Waisai, it takes an hour's speedboat ride through a panoramic seascape. As the speedboat slowly cruises deep into the secret passage through the calm and clear water, you will be stunned by the pristine environment.
You can depart from several areas in Indonesia to go to Raja Ampat, West Papua. We will calculate all the costs of your trip to Raja Ampat according to the area of departure and where you will end your trip. Please write down all your travel plans while in Indonesia and send them via WhatsApp (6282341719999) or email (info@nusapenidaislands.com
We will immediately send you the price and itinerary.
Flight info to Sorong – Raja Ampat 
Jakarta-Sorong direct flight: Garuda Indonesia, Batik Air,
Jakarta- Sorong through Ujung-Pandang (Makassar): Garuda Indonesia, Sriwijaya Air, Lion Air.
Jakarta- Sorong through Ambon: Lion Air
Bali-Sorong Through Ujung Pandang (Makassar)-Sorong: Garuda Indonesia, Sriwijaya Air, Lion Air.
Ujung Pandang- Sorong: There are international flights to Ujung Pandang from Singapore &
Kualalumpur. This option requires one-night stay in Ujung Pandang.
Manado-Sorong: There are direct flights to Manado from Singapore. This option requires one-night
stay in Manado.
Itinerary
DAY 01 :
Sorong, Waisai, and Mansur Islands
Upon arrival at Domine Eduard Osok Airport in Sorong, you will be met and transferred to the ferry port to board the public ferry.
We recommend you arrive in Sorong by morning flight around 6:30 a.m. The ferry will depart from Sorong at 9:00 am and arrive at Raja Ampat's capital, Waisai, at 11:00 am.
Arrive in Waisai and transfer by another 40-minute speedboat ride to your resort, hotel, or lodge, where you will stay for 3 nights.
Arrived and explored the hotel.
Meals plan: lunch and dinner
DAY 02 :
KABUI BAY
After breakfast, start the full-day tour to Kabui Bay to see the beautiful karst islands and the famous rock of Batu Pensil.
If it is during low tide, we can also visit the exotic sand done by Pasir Timbul either before or after Kabui.
A packed lunch will be provided during the trip.
Return to the hotel for dinner and rest.
Meals plan: breakfast, lunch, and dinner
DAY 03 :
PIAYNEMO
Breakfast and start your trip to visit the Piaynemo Geo-Site. Get ready for a walk-up through 325 wooden steps to reach the top of the hill, from where you will be fed by a mind-blowing view over the turquoise lagoon and all the surrounding karst islands.
As we descend the hill, we will do a little hike through the rocky hill to see the famous Telaga Bintang, the star-shaped lagoon located closely adjacent to the Piaynemo viewpoint hill. Wearing comfortable trekking shoes is well recommended.
On the way back, we will stop over at the island village of Arborek, a great place to interact with local villagers and see some local handicraft-making.
A packed lunch will be provided during the trip.
Get back to the hotel for dinner and rest.
Meals plan: breakfast, lunch, and dinner
DAY 04 :
MANSUAR ISLAND – WAISAI – SORONG
After breakfast, we will leave Raja Ampat Dive Lodge by speedboat for Waisai to catch the 9:00 am ferry and bring you back to Sorong.
Upon arrival in Sorong, our staff will meet you and transfer you back to the airport or hotel.
Meals plan: breakfast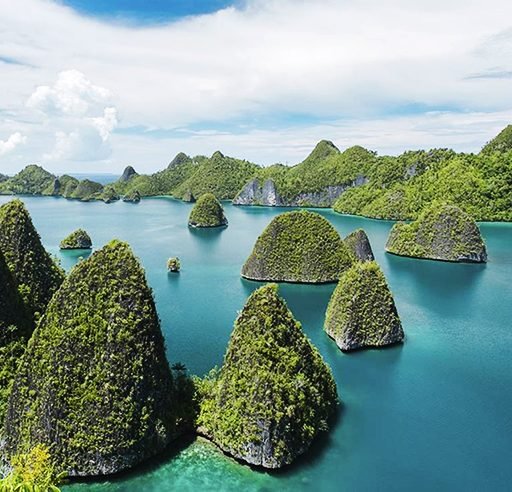 Included
Return Flight ticket
All Breakfast, Lunch, and Dinner
Accommodation in Raja Ampat
All transport in Bali and Raja Ampat
Boat tour and transfer in Raja Ampat
Snorkeling
Snorkeling gears
Mineral Water
Full Day Tour
Trekking
Local guide
Not Excluded
Entrance fee (Raja Ampat Marine park fee 700k foreigners / 450k locals, valid one year)
Entrance fee (Raja Ampat Government park fee 300k)
Any other personal extra activity outside the package (Tours, dives etc.)
Personal expenses
Private Komodo Day Trip From Bali