Let's explore the sea of Nusa Penida by private boat departing from Sanur Beach to Manta Bay, Crystal Bay, Gamat Bay, and Mangrove Point. Enjoy the freedom of a snorkeling tour in the ocean, swimming with manta rays and turtles, and witnessing the beauty of colorful fish that live in beautiful coral reefs. You are free to arrange our pick-up time at the hotel or villa where you stay privately. Enjoy your snorkeling tour trip without the hassle of standing in line here and there like on the usual sharing tour.
Double-decked and 17 meters long, the largest yacht in our fleet has a capacity of up to 17 people. It is perfect for parties (there is an opportunity to provide a DJ with additional musical equipment for a fee). Moreover, the Accura 55 has two beds, a toilet, a kitchen, and air conditioning.
The boat has all the necessary equipment: a navigation system, a satellite phone, and security systems. There is a supply of fuel and water for long journeys.
By renting the boat, you can arrange an individual route for a trip or choose one of our standard routes. The minimum rental period for the yacht is 4 hours; the maximum period is 8. The list of planned routes includes:
Nusa Dua
Lembongan
Nusa Penida
Gili
Nusa Lombok
You can create your own route; just indicate it when ordering. The cost of renting a yacht includes the necessary equipment for snorkeling and fishing, as well as an experienced crew. As additional services, we provide a transfer from the hotel or the airport, photographer services, lunch at the yacht or in a restaurant, as well as any alcoholic beverages and food.
Price:
Nusa Dua — 4 hours
2.100 USD
Lembongan & Nusa Penida — 8 hours
3.290 USD
Gili — 8 hours
4. 700 USD
Nusa Lombok — 8 hours
4. 690 USD
What's included
Towels; all accessories for snorkeling and fishing; water, tea, coffee and other non-alcoholic drinks.
Optional extra
Transfer, accessories for diving and surfing, the restaurant for lunch in the island, photographer, DJ with equipment, alcoholic drinks, fruit, snacks.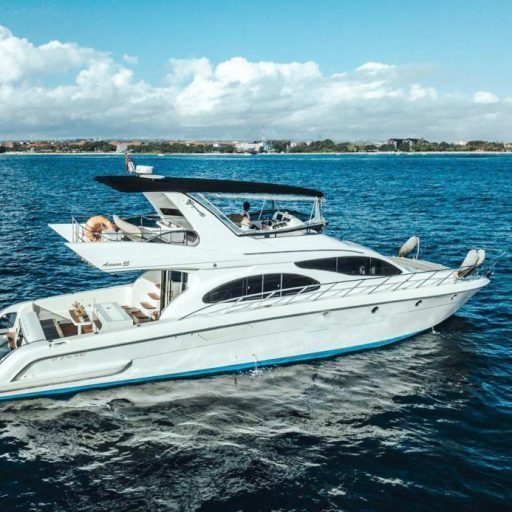 Boat specifications
Capacity:  17 person
Cabins: 1
PERFECT FOR: PARTY, FISHING, AND SNORKELING
Type: Mono hull speed boat
Length: 17 meter
Width: 3,90 meter
Machine: 4 Stroke,300 x 4 Yamaha
Fuel: 3500 ltr
Water: 500 ltr
Navigation: Garmin
Activity: Snorkeling,fishing, Diving ( optional )
Boat Facility: 1x toilet, 2x berth. Sound system,Kitchen,AC,WiFi ,Snorkeling,and fishing tools
Safety: Safety : Sea Safe tracking, Satelite phone,Life Craft,Life Jackets,Life Rings. Insurances cover with Jasa Raharja Putra
Payment police
Deposit 70% will require for secure your reservation
Full payment should be done before trip
Payment of all invoice must be made in IDR currencies(kindly send the copy of bank transfer or link payment to us)
Nusa Penida Yacht Bali not resfonsible for the bank charges or fee resulting from the transfer of the payment
Cancelation police
Once in a while, circumstances in the lives of our guests may prevent their travel at short notice. Due to the way our operations work for private charters, it is difficult to re-sell such charters, our cancellation charge is as following:
Low season : 70 % charge within 7 days before trip
High season : 70% charge within 30 days before trip
100 % cancellation fee will apply less than 7 days
40% cancellation fee for weather conditions